Bitcoin (BTC) Price Prediction – January 21, 2021
On May 19, Bitcoin plunged to $29,563 and pulled back as Bitcoin approaches $30,000 . Bitcoin corrected upward but the upward correction was repelled at the $42,500 high. For the past three days, Bitcoin has been confined between $35,000 and $42,500.
Resistance Levels: $45,000, $46,000, $47,000
Support Levels: $35,000, $34,000, $33,000
Following the last bearish impulse, BTC/USD is now trading marginally in a confined range. The long candlestick tail is an indication that the bulls have bought the dips on May 19. It also indicates that the long tail pointing to the support above $30,000 suggests strong buying pressure. The $30,000 support holds as bulls pushed BTC price upward. However, the uptrend has been stalled at the $42,500 high. Bitcoin is now range-bound between $35,000 and $42,500.
If buyers can push BTC price above $42,500, Bitcoin will rise to the previous highs but may face resistance at either $48,000 or $52,000 high. Nonetheless, if Bitcoin rises above the $56,000, the king coin will resume upside momentum. Conversely, if Bitcoin turns and retraces from the $42,500 resistance, the bears will take advantage and resume selling pressure. On the downside, a break below the current support will cause Bitcoin to decline to $28,000 low.
Bitcoin Dominance Is Likely to Bounce Back As Bitcoin approaches $30,000
Lennard Neo is the head of Stack Funds' research who anticipates that Bitcoin's dominance is likely to see an uptick soon. He further supports the asset's price in the short term. According to reports, since January 2021, Bitcoin's dominance of the cryptocurrency's share of the total market capitalization has been on a steady decline. That is, from 72.3% in January to roughly 40% this week. According to Stack Funds' head of research Lennard Neo who indicated that the figure represents a three-year low since May 2018.
According to Stack Funds, BTC dominance is long due for a rebound: "We believe the rotational
playbook has reversed as dark clouds loom over the markets. We are expecting investors to cycle back into Bitcoin as uncertainties increases as the markets undergo another reset. Hence, a bounce in Bitcoin dominance should occur, further supporting Bitcoin's price in the short-term".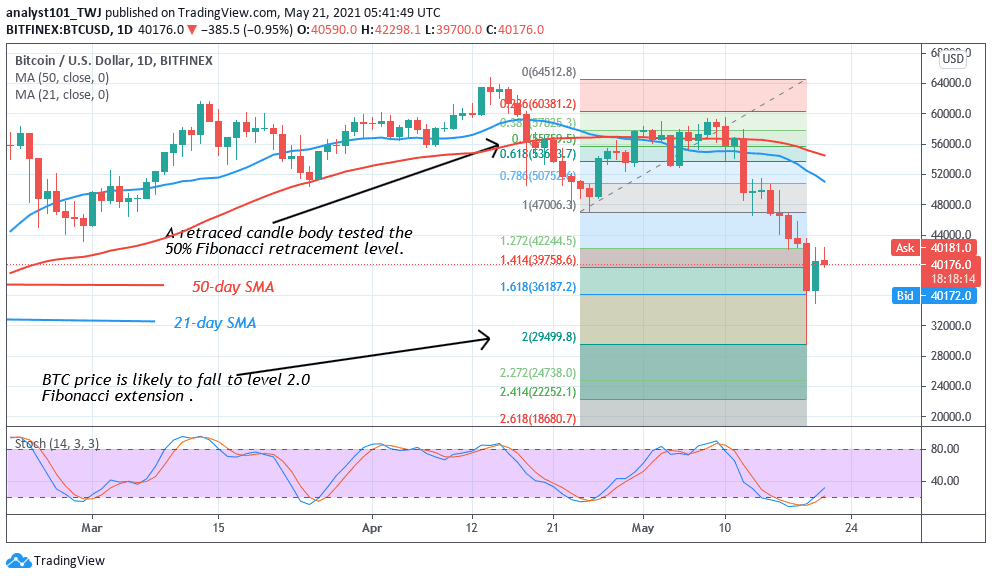 Meanwhile, Bitcoin bulls are struggling to reclaim the $40,000 support. However, the Fibonacci tool has indicated a possible decline in Bitcoin price. On April 24 downtrend; a retraced candle body tested the 50% Fibonacci retracement level. The retracement indicates that Bitcoin will decline to level 2.0 Fibonacci extension. That is, Bitcoin will reach a low of $29,499.80.