Polkadot has been among the best gainers in the crypto market this week. The token has managed to clinch new highs after a sharp decline over the month. The DOT uptrend is attributed to both market support and buying support.
Polkadot is trading at $12.28 at the time of writing after a 2.9% gain in 24 hours.
DOT Price Analysis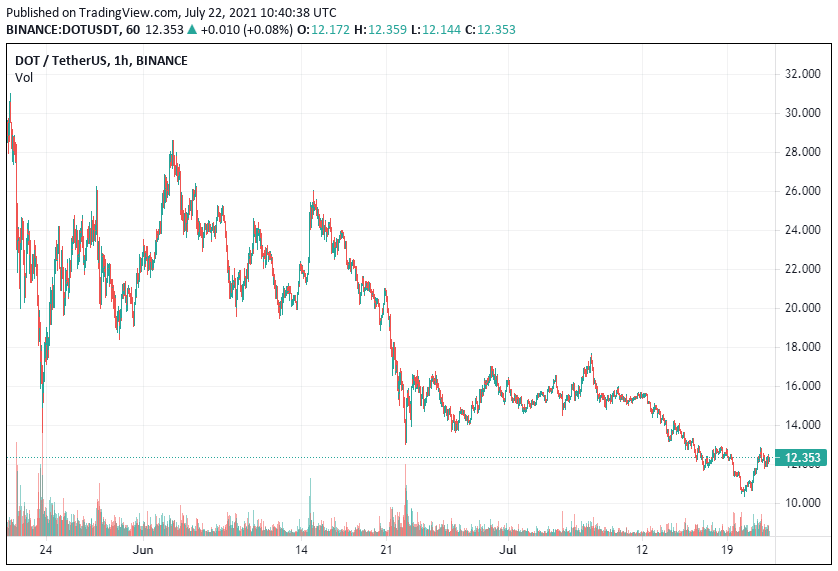 DOT is currently headed towards a sharp bullish zone, leading to a breakout past $13. This breakout will positively affect DOT because if bulls continue to manifest, DOT could be headed towards $16 and beyond.
Currently, market support is good for Polkadot; hence the rally towards an uptrend will not be impossible. However, this market could also fail at any time, in which DOT bears will officially resume.
In case of a downtrend, Polkadot will try to retest $10, which is a critical zone for Polkadot because failure to recover past this level could erase all the bullish gains that DOT has made this year. As one of the largest crypto projects, DOT will regain its uptrend after a dip because of buyer support.
Polkadot is rebounding to higher levels because of the current revival of bitcoin and other key cryptocurrencies such as ethereum. BTC has managed to move past the recent low of below $30K and managed a rebound to $32K, which positively affected prices. The entire market made significant gains after the B Word Conference.
Where to Buy Polkadot
To purchase polkadot, you can create a cryptocurrency exchange account on the following platforms:
One of the leading platforms where you can buy Polkadot is eToro. eToro is one of the leading exchanges, and it supports a wide range of cryptocurrencies and trading pairs. eToro is also reputable because of its low trading fees and features such as copy trading and a demo trading account that is useful to new traders.
The other cryptocurrency exchange that supports polkadot is Kraken. Kraken is a reputable exchange, given that it also offers a broad range of unique features that are also friendly to new crypto traders. Kraken is one of the largest exchanges; hence it has adequate liquidity to enable users to settle trades.
Looking to buy or trade Crypto now? Invest at eToro!
75% of retail investor accounts lose money when trading CFDs with this provider